Let's face it.  The cybersecurity landscape has changed significantly over the last 5 years.  Dallas Fort Worth Small businesses face far more cybersecurity threats than ever, cyber insurance premiums (and the requirements to get cyber insurance) have increased as well), and overall the risks for small business owners means that the basic cybersecurity in place today isn't enough.  We've put together a bundle of managed cybersecurity services available as an add-on to your SPOT Managed IT Services agreement.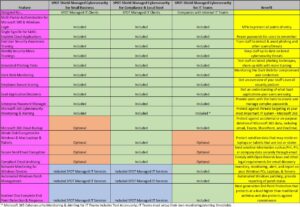 Local government agencies and other organizations bound by compliance have an even higher requirement for more advanced cybersecurity.  Not only have the threats increased, but so have the compliance requirements.  SPOT Shield Managed Cybersecurity for Compliance/Local Government is the answer for our SPOT Managed IT Services clients.

If your Dallas Fort Worth business or organization has an internal IT team, we have the right suite of cybersecurity services to help them up their cybersecurity game.

When you purchase your Microsoft 365 subscriptions from The Fulcrum Group, you get more than just the suite of software and cloud services from Microsoft.  For one low price, you also get:
SPOT Shield Managed Cybersecurity - A la carte services
Have an internal IT team and need additional cybersecurity solutions?  Or are you a SPOT Managed IT Services client needing a specific cybersecurity solution?  Our A la carte services have you covered.
SPOT Shield Network Monitoring powered by Datto RMM
SPOT Shield Windows Automated Patch Management
SPOT Shield Network Monitoring powered by Auvik
SPOT Shield Disk Encryption powered by Sophos
SPOT Shield SaaS Discovery powered by Augmentt
Sentinel One Singularity Control EDR
SPOT Shield IT Documentation powered by IT Glue
SPOT Protect BDR powered by Datto & Unitrends
SPOT Protect Microsoft 365 Backup powered by Datto
SPOT Shield Internal Vulnerability Management powered by RapidFire Tools
SPOT Shield Vulnerability Management powered by Vicarious.io
SPOT Shield Breach Protection Portal
SPOT Shield Email Filtering powered by MailProtector
SPOT Shield Email Encryption powered by MailProtector
SPOT Shield Compliant Email Archiving powered by MailProtector
SPOT Shield MFA powered by Duo
SPOT Shield Microsoft 365 Managed Security
Keeper Password Manager - Enterprise
Request information on SPOT Shield Assessments